Born in 1888, the youngest of a large family, Jean LAMBERT-RUCKI was the child prodigy. He was eleven years old when his father died suddenly. He helps his family to live by making portraits that surprise the bourgeois of Krakow.

He entered the Gymnasium of his native city to study, then the School of Fine Arts where he became a friend of Kisling, whom he later met in Paris.
His youth was marked by the richness of Central European folklore, he made frequent trips to Russia, frequented the gypsies, learned somersaulting and Russian dances, and his work remains deeply imbued with this.

Enthused by an exhibition of Gauguin's works in Krakow, he decided to come to Paris where he arrived one morning in February 1911 with 17 francs as his only fortune. He immediately made the happy and providential acquaintance of a Polish friend who took him in.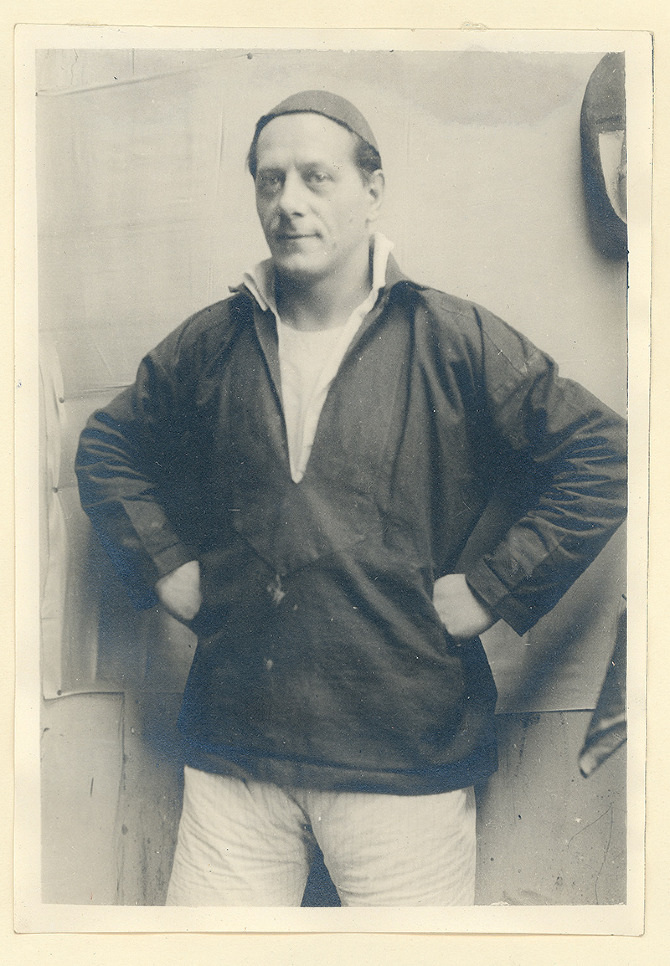 LAMBERT RUCKI in 1925 at the Moulin de Beurre
(Paris, 14th arrondissement)
He enrolled at the Colarossi Academy. He mixed with the bohemian crowd in Montparnasse, frequented the Dôme and then the Rotonde, where he met Chaïm Soutine, Léopold Survage, Amedeo Modigliani (whose room he briefly shared at 8, rue de la Grande Chaumière when he was demobilised in 1919), Foujita, Kisling, Blaise Cendrars and Max Jacob.

He earns his living by acting at the Odéon and does photographic retouching in Montmartre, which does not prevent him from being hungry every third day.
He remained a loner all his life, fleeing the world with its demands and vanities. His raison d'être was his incessant need to create, to make something « new ».
In 1913, he moved into a studio at 29, rue Campagne Première in Paris, 14th arrondissement.

In 1914, when he enlisted in the French army, in the Bataillon des Volontaires Etrangers to serve France, he Frenchified his name: Jean-Lambert being his first name, he chose the patronymic of Jean LAMBERT-RUCKI.
Throughout the hostilities, he was assigned to the « Archaeological Service of Salonika » where he carried out excavations, descending by means of a winch into the Greek tumuli. He participated in the creation of an Archaeological Museum in Athens and made copies of the mosaics of Saint Sophia of Salonika for the Louvre Museum under the direction of Jean Guiffrey, the Curator of the « Département de la Peinture ». He became friends with Joseph Csaky and Gustave Miklos, who became the godfather of his daughter Theano, known as « Mara ».

In 1918, after being demobilised, he returned to Paris where he settled at 12 rue du Moulin-de-Beurre in the 14th district of Montparnasse. He became a member of the Section d'Or, whose aim was to make innovative artists of different nationalities known and to organise exhibitions with musical and literary auditions in many countries.

In 1920, he married Monique Bickel (born in 1892), herself a student of the sculptor Rodin. After his half-sister Léano, Théano, known as Mara RUCKI, was born on 7 April 1920.
LAMBERT RUCKI and his daughter Mara at aged 4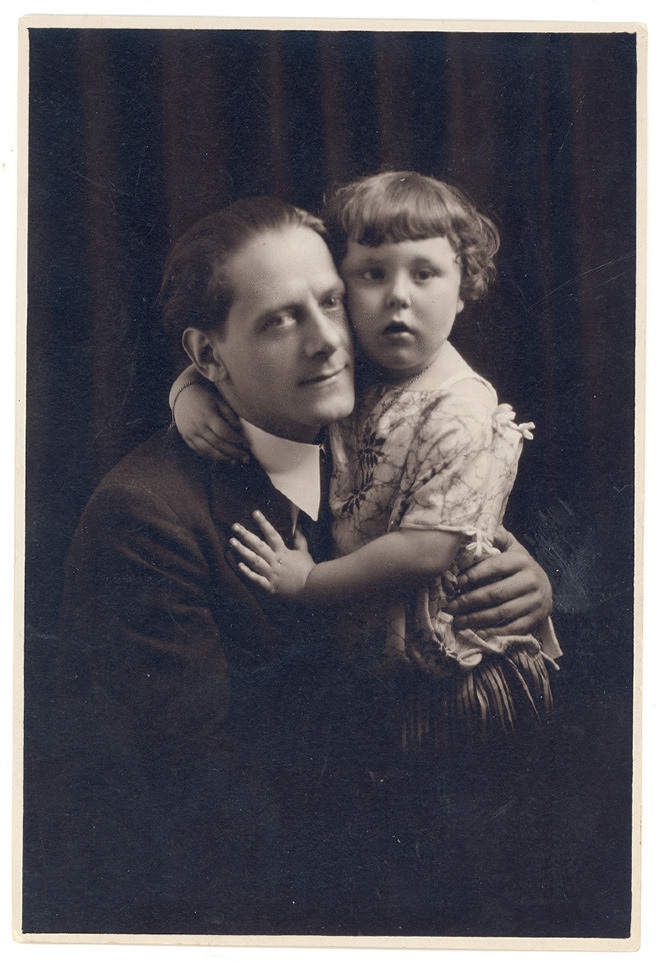 That same year, he met the art dealer Léonce Rosenberg and found his friend Léopold Survage, with whom, among other things, he participated in the first exhibition of the Section d'Or at the Galerie de la Boétie in Paris.
In 1923, he befriended the coppersmith Jean Dunand for whom he worked in the afternoons for about twenty years. He refused Jean Dunand's proposal to affix their double signature on the works he made (except at the very beginning of their cooperation) on the pretext that it was not his creation since they were commissions. Chinese lacquer has no secret for him and one can easily recognize the RUCKIEN style (as his friends call it) especially in the screens, portraits of famous people, cigarette boxes, jewelry, various precious objects, vases and decorative panels of the liners Atlantique and Normandie.
In 1925 and until the end of his life, he multiplied the exhibitions of his works, executed numerous orders throughout Europe (building sites in Alsace, Canada, Belgium, the USA…) and for churches (important renovations after the Great War), participated in the great manifestation of Sacred Art or collaborated with Jacques-Emile Ruhlmann and Jean Dunand at the International Exhibition of Decorative Arts in Paris in 1925.
From 1930, he became one of the pioneers of Modern Sacred Art.
In 1931, he became an active member of the U.A.M. (Union des Artistes Modernes) where he exhibited alongside René Herbst, Le Corbusier, Mallet-Stevens, the architect Georges-Henri Pingusson, and Jean Fouquet (the jeweler for whom he executed jewelry). He left the UAM in 1950.
In 1933, he left the Montparnasse workshop for the one at 26 rue des Plantes in the 14th arrondissement of Paris.
In May 1943, he participated in a group exhibition with the artists of the « 2ème groupe » at the Galerie Drouant-David in Paris (Braque, Derain, Dufy, Maurice Denis…).
In 1967, he died of a long vascular disease, he was then eighty years old. That same year, his friend Gustave Miklos also passed away.
This man with an elegant silhouette was welcoming and full of humor. The smiling air and the blue eyes of Jean LAMBERT-RUCKI immediately attract sympathy.
He is a frank and solid artist, a true man in the full sense of the word. His spontaneity and natural fantasy do not exclude hard work and a love of the craft that is uncommon in execution.
Giving in willingly to his impulses, this instinctive person values his independence above all. This refined being loves the sweetness of the fields, the fresh nature and the light. He has a predilection for birds, cats and small donkeys. He offers us a tender and pure world of the greatest beauty that fits perfectly into the avant-garde movements in which he is involved.